The Bitcoin (BTC) price is once again in a lull-like state, having seen barely any bouts of volatility over the past few days. While some say that these lethargic market conditions are indicative of an impending return to a sub-$9,000 price point, the bull case for the leading cryptocurrency is purportedly building.
Popular cryptocurrency analyst Scott Melker, also known as "The Wolf of All Streets" on Twitter, noted that the short-term chart of BTC has seen the asset print five lower lows in a row over the past two weeks, signaling that there remains buy-side demand, despite the non-action seen over the past week and fears of bull exhaustion.
That's a lot of higher lows. pic.twitter.com/8N494p5l2a

— The Wolf Of All Streets (@scottmelker) November 6, 2019
While this isn't a clear sign that a move to the upside will take place, the consistency of the buying pressure is bullish than it is bearish. Just look to the chart below, which shows a "Three Rising Valleys" chart pattern, which sees an asset put in a series of higher lows and higher highs before surging higher.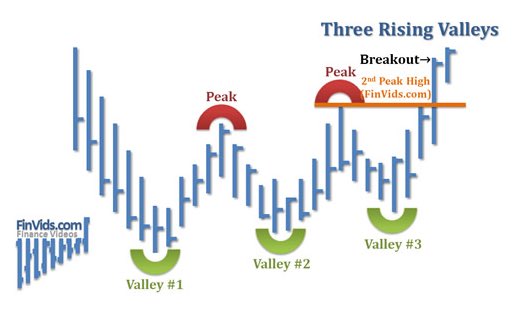 That's not all. Popular Twitter analyst Crypto Thies recently noted that Bitcoin is currently looking rather positive as the volume moving average implies incoming volatility. In the chart below, he showed that when BTC bottomed at $7,300, it bounced decisively off the 0.618 Fibonacci Retracement of the move from $3,000 to $14,000, which correlates with the two-week volume-weighted moving average.
As soon as $BTC bounced off of the .618, many should have started hoarding #bitcoin like it was …well, Bitcoin.$BTC Bears beware…you may not want to short this next 'attempted' pump

As price sits at $9.4k as of this post, my notes below highlight what to expect in Nov/Dec pic.twitter.com/XfBE6Kf0Yz

— Eric Thies (@kingthies) November 6, 2019
Do Bitcoin Bears Have Any Footing?
While Bitcoin bulls seem to have the upper hand, some have suggested that a short-term pullback is entirely possible.
Analyst Data Dater recently found a few signs that imply BTC will soon take a breather, which will be a move that will see the cryptocurrency head back into the $8,000s. He noted that indicators are "approaching overbought" on the four-hour, six-hour, and 12-hour charts, while the one-day chart and the two-hour chart are already flashing overbought signals.
Photo by Peter Thomas on Unsplash