Market Update: Bitcoin Stagnant
On Monday, Bitcoin continued to trade relatively flat. The cryptocurrency, as of the time of writing this, has found itself effectively stuck at $8,400,  barely deviating from this level as altcoins have attempted to break higher. BTC is currently down 0.01% in the past 24 hours, according to CoinMarketCap.
Reasons to Be Bearish
While a few analysts have taken this consolidation and the lack of immediate bearish continuation as a positive signal, Bitcoin isn't out of the woods just yet. Commentator CryptoWelson recently drew attention to two "reasons to be bearish" in the below post, trying to remind his followers not to flip entirely bullish just yet.
The Bitcoin/U.S. dollar long-to-short position ratio on Bitfinex, in his eyes, is currently signaling some bearish signs. TradingView currently shows that the ratio is sitting at 2.87 — a sign that there are many more bulls trading on the platform than bears. While a 2.8 long-to-short position ratio reading may nothing in and of itself, there are some cryptocurrency investors that trade under the belief that trading Bitcoin is about going against the tides, not with it.
Welson then looked to the fact that there exists a CME BTC futures gap at $7,200. Futures gaps, created due to traditional markets being closed on the weekends, have largely been filled by Bitcoin over recent months.
https://twitter.com/CryptoWelson/status/1183446204555943936
Not all is lost, however, as there is evidence to suggest that Bitcoin is forming some bottom.
Smartcontracter, a popular Twitter analyst, recently posted the chart below, which implies that Bitcoin has bottomed. As can be seen, the price action seen over the past few weeks and back during the capitulation phase of the last bear market (when Bitcoin fell from $6,000 and $3,000) are effectively identical. What's more, the moving averages and trend lines on the charts are in similar formations and territories.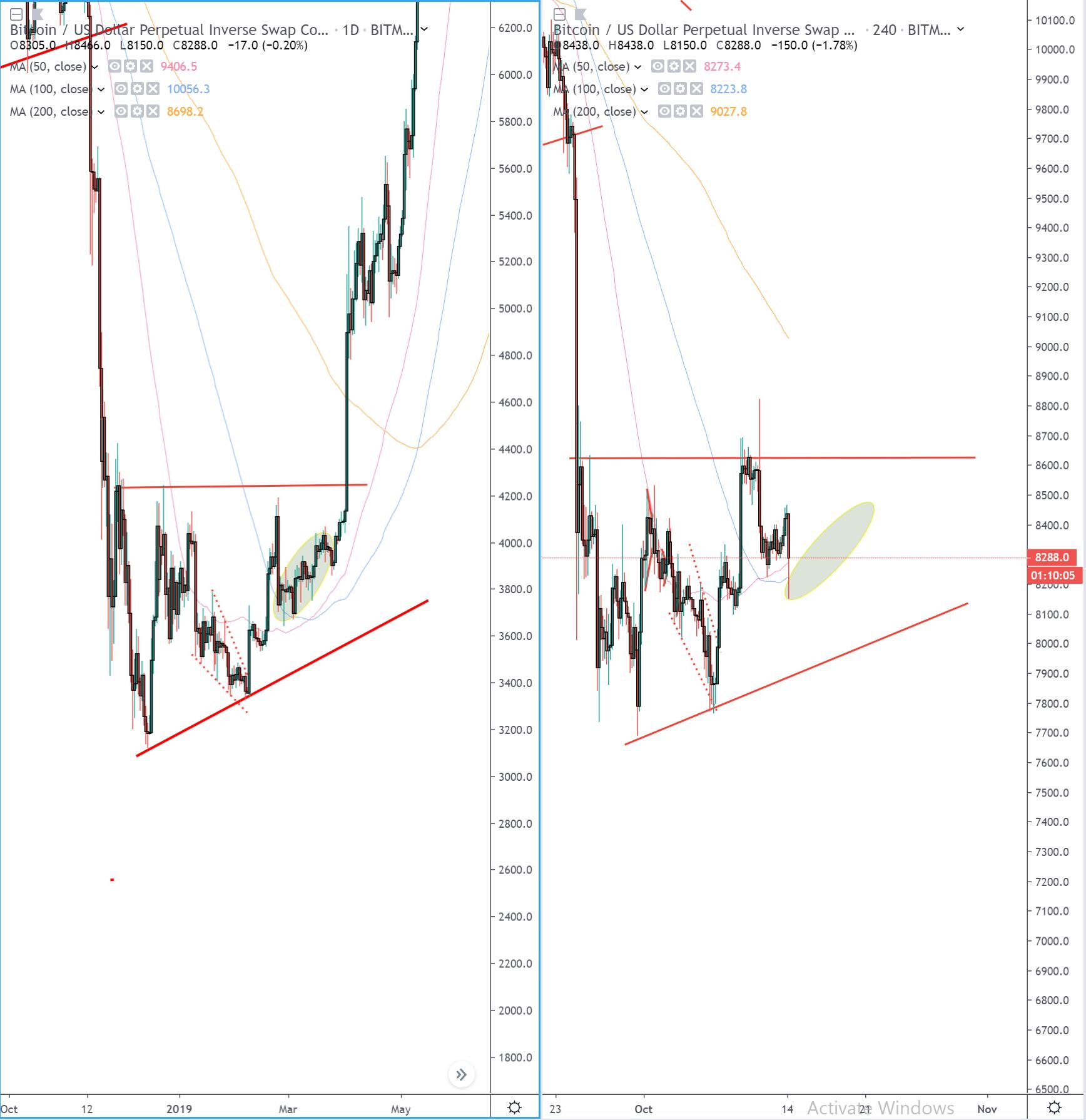 That's far from the end of it. Back in December 2018, analysts were mentioning harrowing price targets, eyeing $2,000 (or even low). Now, analysts are calling for moves down to $5,000 or even lower — again, a sign that a fractal is playing out in the current.
Photo by Osman Rana on Unsplash
Disclaimer: This article is not meant to give financial advice. Any additional opinion herein is purely the author's and does not represent the opinion of EWN or any of its other writers. Please carry out your own research before investing in any of the numerous cryptocurrencies available. Thank you.