Since plunging by $500 on Friday morning, the Bitcoin price action has settled down, with BTC finding a seeming short-term level of support at $8,700. As of the time of writing this article, the cryptocurrency is settled at $8,850, flatlining as the market tries to establish a trend.
Despite the lack of bearish continuation seen after Friday's strong drop lower, a Bloomberg report has indicated that a growing bearish trend is in the works once again. In an article entitled "Bitcoin's Break Below $9,000 Risks Erasing Xi-Inspired Rally," Bloomberg wrote in reference to the chart below:
The GTI Vera Convergence Divergence Indicator shows a narrowing gap between the signal and vera lines, which suggests a trend change may be on the horizon. If this occurs, the largest digital currency could retest the lows seen before its rampant run following comments by China's President Xi Jinping in October.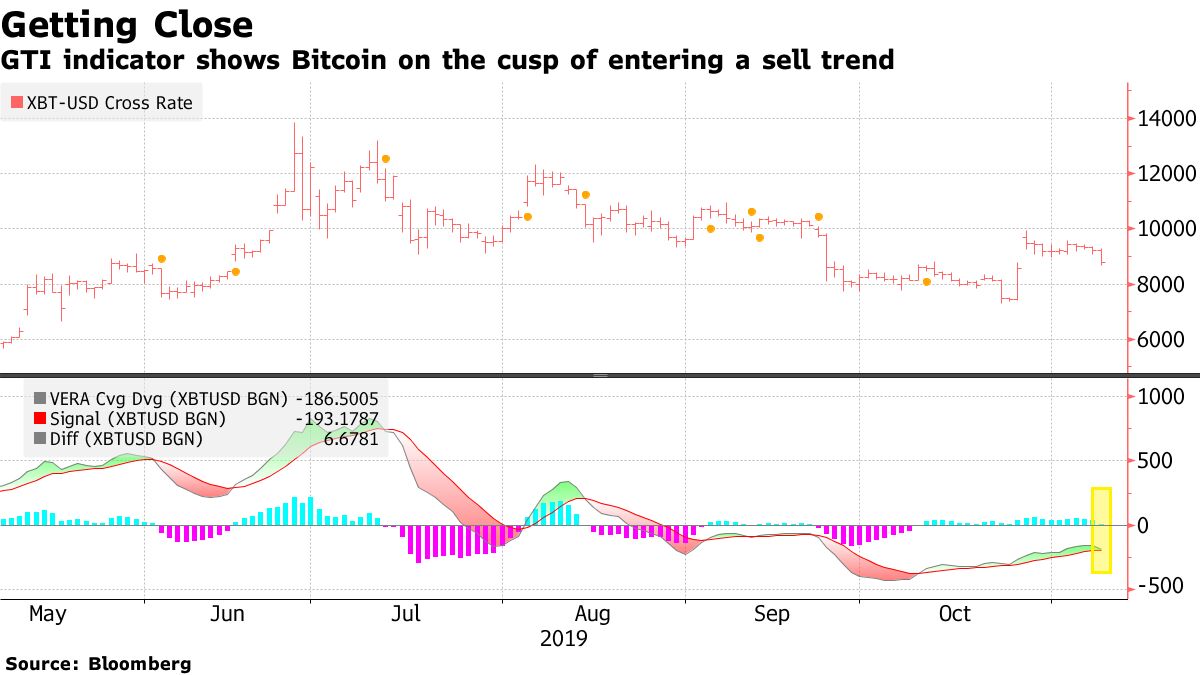 In other words, if a change in bull trend takes place, BTC is likely to fall to $7,300 once again, which is where Bitcoin was trading prior to Chinese leader President Xi lauding blockchain in a political setting.
This Bloomberg report contradicts the sentiment of another analyst at the firm, who published their thoughts on Bitcoin and the cryptocurrency market in a recent newsletter. They noted in their report that they expect for BTC to hold in a tight $8,000 to $12,000 range for the next few weeks and months.
Did Bitcoin Bottom at $7,300?
Although some of Bloomberg's analysts believe that a move to retest $7,300 is possible, will that act as a final bottom for the bear trend that Bitcoin has seen play out over the past few months. According to a top markets research firm, $7,300 is likely to be the price bottom for the time being. In Delphi Digital's latest iteration of its famous "BTC Outlook" report series
, it revealed some evidence that the bottom is in at the aforementioned level.
0/ We recently sent our clients a special edition of the Monthly #Bitcoin Outlook by @YanLiberman and @Kevin_Kelly_II, and we're excited to share it publicly today. This thread summarizes our take of the interplay between Price and Open Interest on Bitmex.https://t.co/920MD8d7fk

— Delphi Digital (@Delphi_Digital) November 1, 2019
One of their tidbits of evidence is that Bitcoin's volume profile, the amount of cryptocurrency that was traded, has printed clear signs that a bottom is in. More specifically, the market printed signs of weak volume (capitulation), a short accumulation at the bottoming range, then a surge out of accumulation into a potentially new bull phase.
They added that they currently see the cryptocurrency market very tied to risk assets, like the S&P 500. With risk assets setting new all-time highs on Friday after a strong jobs report and a potential trade deal, it could be said that BTC will surge higher with the risk assets.
Featured image from Unsplash.com