Bitcoin Sees Growing Bear Case, Bloomberg Reports
Bloomberg has reported that Bitcoin's technical trends are about to flash a "sounding sell alarm." This sell alarm, the outlet wrote, is the fact that BTC has already plunged below its 50-day moving average and seems poised to move below the 200-day moving average, which would imply a strong loss of the bull trend, after bouncing off this level at $7,300 late last month.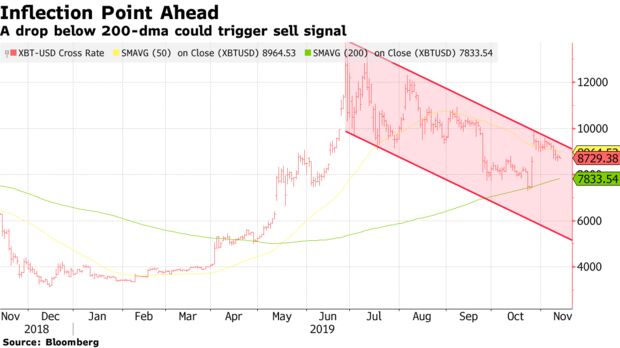 An important aside: the 200-day moving average that the outlet mentioned in its article is the moving average for the Bitcoin CME futures, which does not trade on weekends. This means that this moving average is different than its equivalent on, say, Coinbase's BTC market. Still, traders on Crypto Twitter have found that CME's moving averages are still of some relevance when tracking Bitcoin's price trends.
A Bloomberg analyst commenting on the chart above said that the " best way to describe the market is it's retracing last year's bear market," before adding that Bitcoin is in no hurry to take out the "old highs" due to the overextended rally earlier this year and the presence of "responsive sellers." 
Though Bloomberg is expecting a bearish "inflection point," other analysts out the outlet have expressed relative optimism. 
An excerpt from Bloomberg's monthly crypto market report implies that there is some hope for bulls. The report reads that "the worst of this year's Bitcoin price correction is over, but further upside is also limited, in our view."
The analyst elaborated that they expect for the cryptocurrency to remain bound in the rather broad $8,000 to $12,000 range until at least year-end; Bloomberg wrote that increasing institutional investment and a "favorable macroeconomic environment" should produce upside potential, but that "hangover selling from 2017's price surge" should limit the upside, and potentially create some room for downside to the $8,000 region.
This analyst's assertions echo a comment made by another Bloomberg analyst, Mike McGlone. As reported by Ethereum World News, the commodities trader remarked that he expects Bitcoin volatility to taper off into the end of the year due to Bakkt, other derivative vehicles, all the growing number of industry participants. McGlone added that with there being key support at $8,000 and heavy resistance at $20,000, the cryptocurrency could be stuck in that range "endlessly."
Title Image Courtesy of Unsplash.com