After a strong uptrend, Bitcoin's price has started to pullback. The cryptocurrency is now trading at $9,750 as of the time of writing this — down nearly 5% from the peak of $10,200 established just this weekend.
While this isn't a strong retracement per se, Bloomberg recently warned of a steeper drawdown, citing technical factors that suggest BTC has further to fall from here.
Bloomberg Warns of Deeper Bitcoin Price Pullback
Bloomberg recently warned that Bitcoin could be in for a deeper pullback after the move above a four-digit price.
In an article entitled "Bitcoin Drops From $10,000 While Technicals Point to Pain Ahead," the outlet wrote that BTC could drop further from here simply because last time it crossed the key psychological level of $10,000, it struggled:
It similarly struggled with that level in September when it crossed $10,000 — the month that followed saw it lose more than 14%.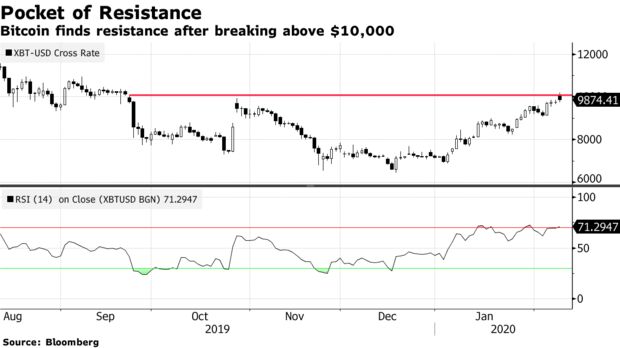 The company added that the "token is overbought based on the 14-day relative strength index (RSI), which crossed the 70 mark." The RSI defines an asset being overbought when the metric passes 70.
These two factors in tandem, Bloomberg wrote, "suggest a potential retreat ahead as the coin struggles to meaningfully break out from its recent trading range."
It isn't only this suggesting Bitcoin could fall from here.
Thomas Thorntown of Hedge Fund Telemetry recently noted that the TD Sequential Indicator printed a 13 candle (often a reversal candle) today, with Thornton adding that this technical signal, coupled with Bitcoin being overbought, is a sign that investors should start selling their longs and flipping neutral.
This signal is important because the TD Sequential has been extremely accurate in calling Bitcoin's macro inflection points over the past few years; for instance; it printed a 13 at the $6,400 bottom in December of 2019.
This historical precedent of 13 marking trend changes in Bitcoin implies that the next few weeks will see BTC retrace a handful of percent, maybe more, lower.
#BITCOIN DeMark Sequential Countdown 13 today. We recommended selling the long last week with 50% gain from December buy signals. pic.twitter.com/0FrFu7bt5q

— Thomas Thornton (@TommyThornton) February 10, 2020
Some Think Bull is Still On
Despite this, some are sure that the bull case is active.
Prominent cryptocurrency trader Parabolic Thies remarked that Bitcoin's recent drop is expected, referencing the idea that assets retrace after strong rallies upward.
He added, that there's no reason to start worrying because the trend low of $8,800 remains intact on a daily and weekly basis, suggesting this flash crash was but a small retracement in a larger bull trend for Bitcoin.
$BTC dropping from $10.2k – $9.8k as of now. This is expected. No need to start worrying unless support at $8.8k is breached.

— Eric Thies (@kingthies) February 10, 2020
Photo by André François McKenzie on Unsplash