Ever since the price of BTC surged to $9,550 earlier this week, Bitcoin's jaw-dropping rally has stalled. The cryptocurrency is now trading at $9,350, caught between the key support around $9,200 and the resistance around $9,500. Despite the tight ranging, which some fear is a precursor to a drop to the $8,000s, analysts are becoming convinced that the leading cryptocurrency will soon thrust higher yet again, looking to a confluence of technical factors.
Bitcoin Preparing to Push Higher, Analysts Say
Technician Byzantine General recently noted that Bitcoin's short-term charts are showing that prices are ready to soon extend higher.
In two charts published on Friday, the trader pointed out that even with the ranging price action, Bitcoin has managed to hold the key horizontal support around $9,150 and a slight uptrend that formed on the 28th. Byzantine also noted that the price is forming a hidden bullish divergence.
Not to mention, the funding rates for futures positions have started to normalize near 0, implying that bulls have fuel to push prices higher yet again in the coming days.
Huh. That looks kinda bullish. pic.twitter.com/q1iddtPJ4q

— Byzantine General (@ByzGeneral) January 31, 2020
Not to mention, Bitcoin has crossed above its 200-day moving average. New York-based research firm Fundstrat says that this is a "positive milestone [that] reinfor[ces] 2020 shaping up to be a great year for BTC."
The company co-founder noted that per his firm's analysis, whenever the price of Bitcoin is about the 200-day moving average, the six-month forward win rate for the cryptocurrency "jumps to 80%," "essentially [meaning BTC is] 're-entering' a bull market."
Bitcoin moved back above its 200-day moving average on 1/27… positive milestone and reinforcing 2020 shaping up to be great year for $BTC #bitcoin

– whenever BTC >200D, win-rate (6M forward) jumps to 80% and essentially "re-entering" bull market (>200D)#BTD #bestasset2020 pic.twitter.com/YbpQYHpLaj

— Thomas Lee (@fundstrat) January 29, 2020
The company has previously said that it expects for Bitcoin to end the year up 100%, implying a price of well above $15,000. Fundstrat then cited a confluence of fundamental factors, including the upcoming block reward reduction, better known as a halving or halvening.
Bloomberg Wary of Pullback
Even with all this in mind, Bloomberg is somewhat worried that a pullback is imminent. in an article titled "Bitcoin Technicals Suggest Monster Rally Went Too Far, Too Fast," the outlet noted that a key indicator has signaled a retracement is in store; the GTI Vera Band Indicator, "which tracks upward and downward trends," purportedly moved "far above the upper-band limit."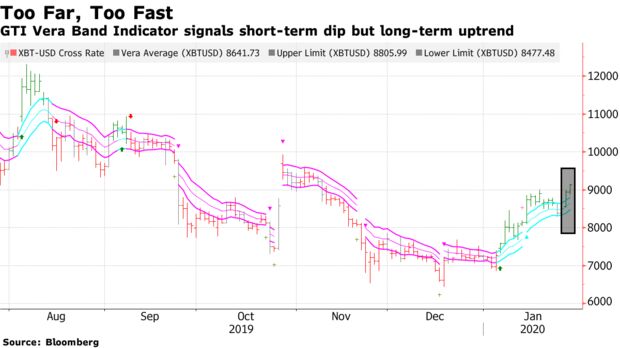 This, Bloomberg claims, is a likely indicator that there will be a "mean reversion" event that will push the cryptocurrency back to the $8,500 level.
Should this mean reversion take place, it will be the third that has taken place in January 2020.
Photo by Khachik Simonian on Unsplash