Ross Ulbricht, the creator of the Silk Road marketplace, which some say was the first real use case for Bitcoin (BTC), still has his mind on cryptocurrencies, despite being held up in jail for two life sentences after he was convicted earlier this decade for the operation of the Silk Road.
The industry pioneer, who many in the cryptocurrency space believe was key in driving Bitcoin's earliest stages, recently released a series of letters/articles, which was then shared online by his friends and family. In it, he discussed Elliot Wave analysis, which is a form of technical analysis that focuses on "redcurrant long-term price patterns related to persistent changes in investor sentiment and psychology."
His Elliot Wave analysis of Bitcoin's long-term market cycles, the details of which can be found at this link,  suggest that Bitcoin will reach $100,000 "around or in 2020."
Here are the first six posts of a series I'm calling #BitcoinByRoss.

I hope you find it helpful. Let me know what you think.https://t.co/oKE8UXudTu

— Ross Ulbricht (@RealRossU) December 10, 2019
Bitcoin Analysts Agree With Ross
It isn't only Ross who expects for Bitcoin to enter the six-digit range.
Speaking to CryptoPotato in a recent interview, long-time investor and tech entrepreneur, Anthony Pompliano, said that he still believes that Bitcoin will hit $100,000 by December 2021, just over two years away:
We will see Bitcoin's price at $100,000 by December 2021.
The reason: In less than six months' time, BTCwill see an extremely important event. Known as a "halving" or "halvening," the number of coins issued per block to miners will get cut in half, effectively meaning that Bitcoin's inflation rate will be cut in half in layman's terms.
The math may be on Pompliano's side.
PlanB, an institutional quantitative analyst interested in BTC, found earlier this year that the market capitalization of BTC can be accurately determined by the stock-to-flow ratio (effectively inflation) of the cryptocurrency.
His model, which is cointegrated to Bitcoin's price history and fits the BTC price to an R squared of 0.947 (extremely accurate in statistics lingo), suggests that the cryptocurrency's market capitalization will have a fair valuation of $1 trillion after the halving, or $55,000 per coin.
This has been corroborated by prominent trader Filb Filb, who called a move to $3,000 months prior to the capitulation even seen late last year. Using regression and statistical analysis, Filb found that by analyzing the Internet industry's historical growth cycles of staggered booms and busts, halvings, and the scarcity of the cryptocurrency market, you can derive this graph seen below. It illustrates that the cryptocurrency could eventually enter the six-digit price region in the coming few years.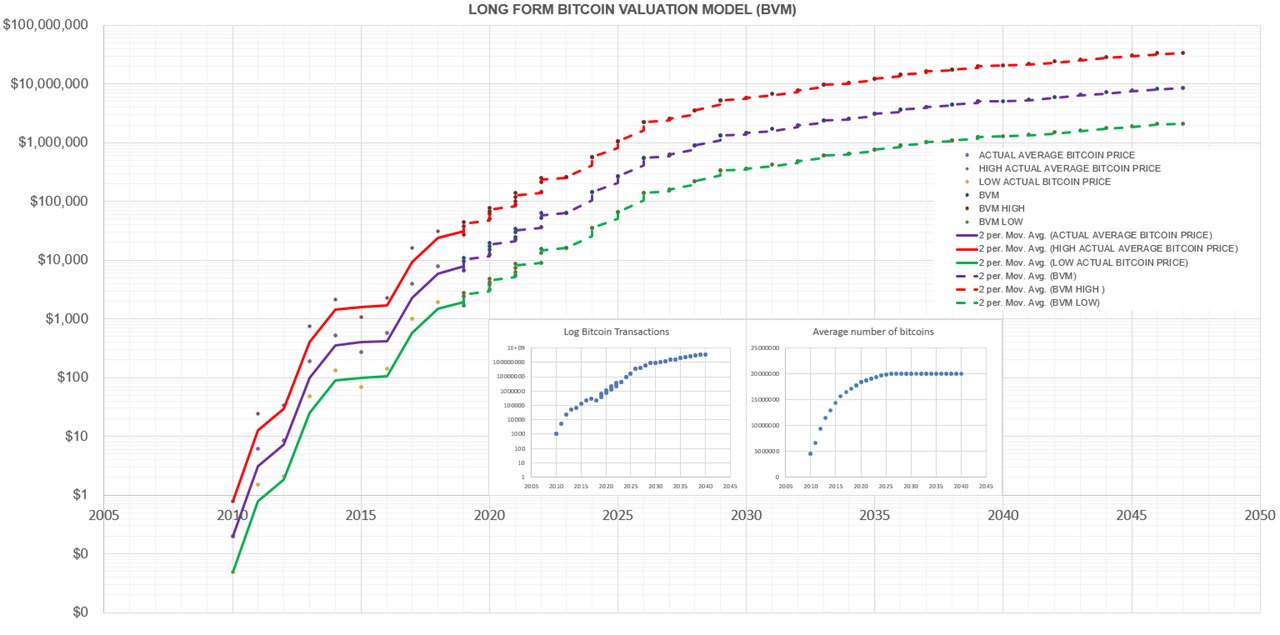 Featured Image from Unsplash