Top Analyst Expects Bitcoin to Return Towards $9,000
Earlier this year, in late-September, prominent Bitcoin analyst Filb Filb posted this chart below, showing that he expects for BTC to jump by dozens of percent to near $10,000, then collapse to the low-$6,000s to interact with the "miners bottom range."
While some laughed this off as pure bearish sentiment at the time, the forecast turned out to be effectively 100% accurate, with Bitcoin surging past $10,000 in a temporary relief rally, then crashing the mid-$6,000s just last month.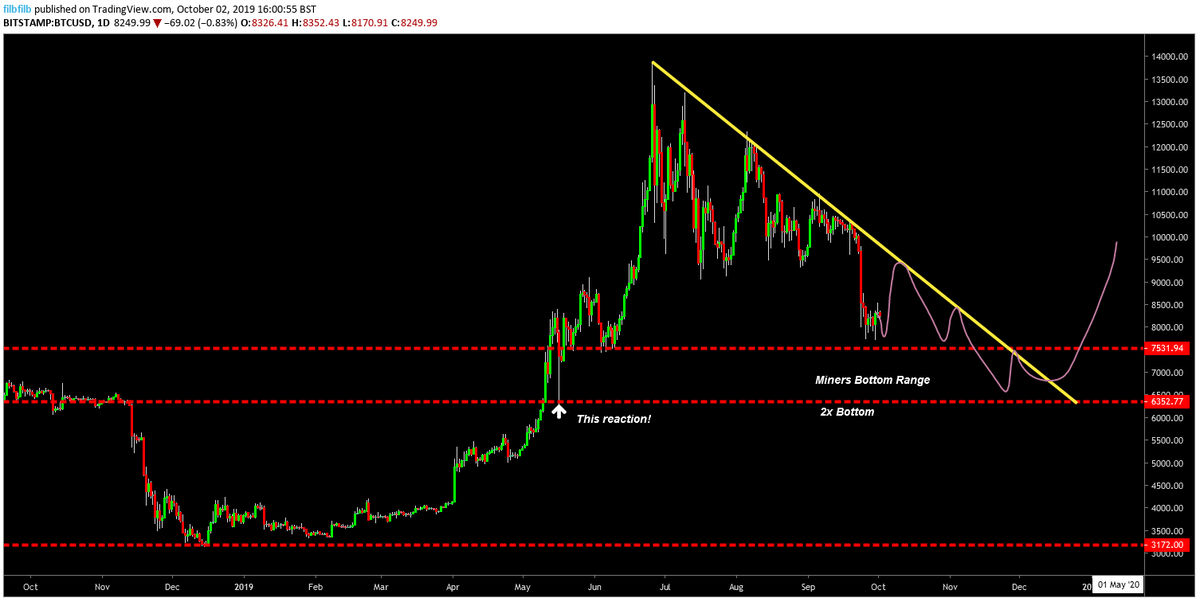 Filb Filb is back with his latest forecast.
In a recent TradingView chart, the eerily accurate trader noted that he believes BTC is in the midst of a "corrective phase to backtest $8,000," which he claims is a pattern seen over the past month.
After hitting $8,000 flat, he expects for the cryptocurrency to make a run to $9,000 "again in the next couple of weeks."
Filb isn't the only trader expecting for BTC to soon surge back to the local highs. Per previous reports from Ethereum World News, market commentator Jonny Moe on Saturday published 2 charts showing reasons why BTC could soon bound towards the high-$8,000s:
Since last week, Bitcoin has been trading in a clear falling wedge pattern, marked by increasing lower prices and tightening price action. Falling wedges break upward nearly 70% of the time, The Pattern Site says .
There are 2 bullish divergences forming between Bitcoin's price and the Stochastic RSI and MACD, suggesting that the price of the cryptocurrency could soon recorrect higher.
$12,500 By the Halving
Filb Filb notably isn't bullish only in the short term.
In Filb's latest edition of his Decentrader newsletter, he wrote that with the latest price action in mind — BTC bouncing off the $6,000s and rallying to the $8,000s — he is bullish heading into the block reward reduction in May of this year:
"Overall, Bitcoin is exactly where [I] anticipated; slowly grinding up towards previous resistance… I'm very much of the opinion that Bitcoin will reach to at least $12,500 level before the halving."
Should Bitcoin hit at least $12,500 prior to the halving, it will need to rally by nearly 50% from the current price of $8,450.
As to why $12,500 makes sense, he noted that that is the "top target" for a bullish inverse head and shoulders chart that is forming on a medium-term basis for Bitcoin.
The eerily accurate analyst added that those calling for BTC to fall back to the $5,000s are fearmongering, saying he sees no case for such prices on the macro charts.
Photo by Ingmar Hoogerhoud on Unsplash
Disclaimer: This article is not meant to give financial advice. Any additional opinion herein is purely the author's and does not represent the opinion of EWN or any of its other writers. Please carry out your own research before investing in any of the numerous cryptocurrencies available. Thank you.
---