Bitcoin Miners Bullish Beyond Compare
Wow. Just wow. The Bitcoin network's security has been surging as of late, reaching levels that have never been seen before, despite the fact that BTC still remains 50% lower than its all-time highs and bears have seemingly managed to start to make their presence known in this market.
As reported by Blockchain.com on Thursday, the hash rate of the leading cryptocurrency network has topped the 100 exahashes/second milestone for the first time… ever. In fact, the data website revealed that Bitcoin's hash rate hit 102.8 exahashes/second, which is up by over 150% from the bottom seen in December.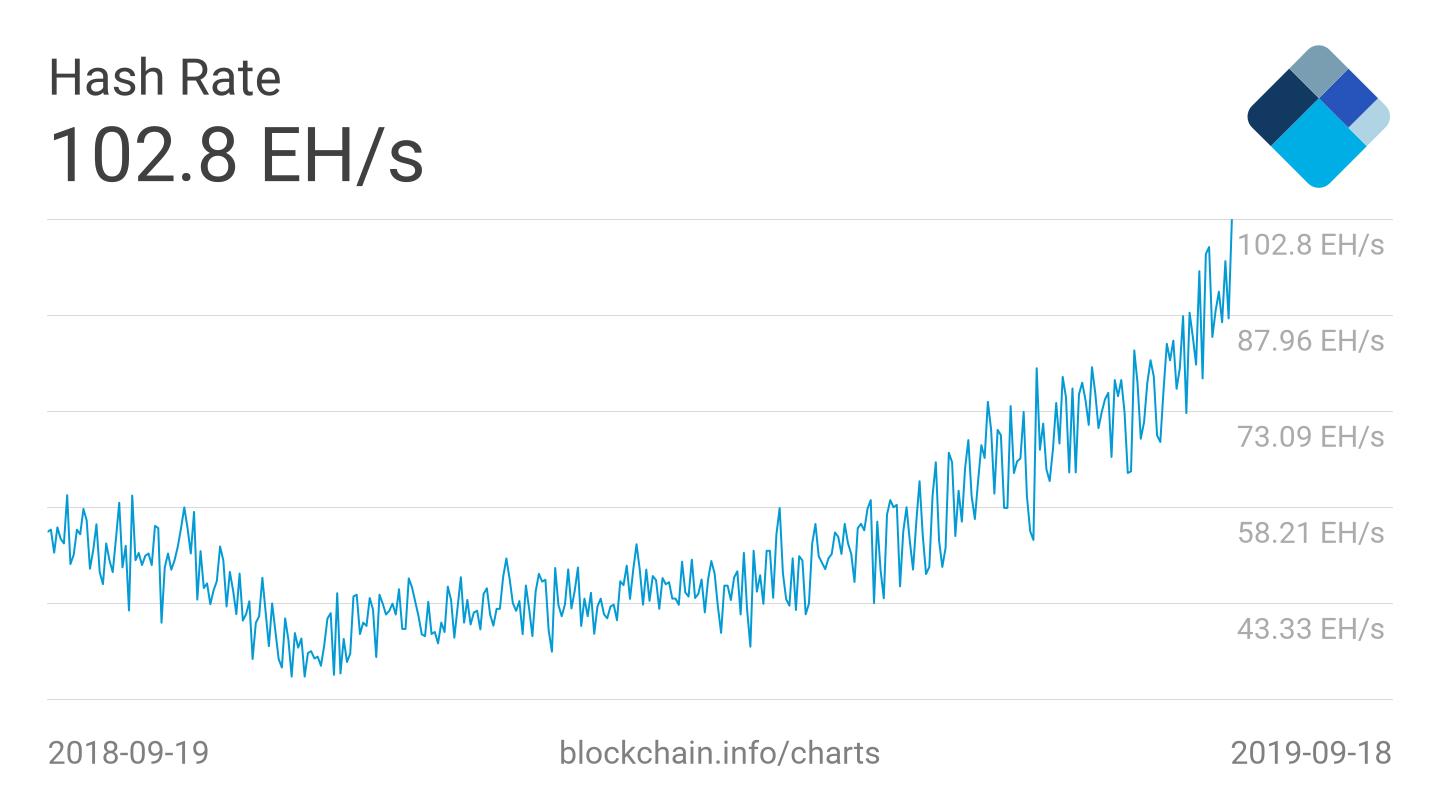 For those that have no clue what the heck an "exahash" is, the number of hashes being processed by Bitcoin miners each and every second to maintain the network is the following: 102,800,000,000,000,000,000.
Yes, each and every second of the day (barring that the hash rate changes), computers running this network across the world crank out that number of hashes as a way to secure and process transactions. For some perspective, each human would have to do 13706666666.7 SHA-256 hashes each and every second to maintain Bitcoin at current security levels. They don't call Bitcoin the "world's most powerful supercomputer" for nothing.
While the increased hash rate should have no direct effect on the price of Bitcoin, analysts say that it is a way to gauge in what direction the cryptocurrency will head next. You see, when the hash rate increases, it implies that mining firms are setting up new farms, meaning that capital is flooding to secure the network. With ASIC machines being non-liquid assets, the investment of millions in these mining machines indicates that these miners are turning bullish on Bitcoin.
As Skew, a cryptocurrency markets research firm wrote in response to the Bitcoin network's rapidly-increasing security metric:
"Not clear why miners would rush to add capacity into an event next year where the rewards will be halved. They must be very confident in their competitiveness or very bullish on price."
Also, as Fundstrat Global Advisors' resident cryptocurrency bull Tom Lee pointed out in interviews over the years, the higher the cost to mine a Bitcoin is, the higher BTC's spot price will trade at.
Photo by Johannes Mändle on Unsplash