McAfee's Famous Bitcoin Prediction
In 2017, John McAfee, the eccentric cybersecurity and tech guru that had stumbled across Bitcoin, famously made a prediction that BTC would hit $500,000 in three years. He later revised the prediction, targeting $1 million by the end of 2020 — now under 18 months away. According to this website, which tracks the Bitcoin "dickline" (in reference to McAfee's family jewels), the prediction so far has been wrong, with Bitcoin being 90% below where the "dickline" is.
And according to a number of price models for Bitcoin, a $1 million BTC by the end of 2020 is going to be hard to accomplish.
Not Possible, Say Models
"Entrepreneur, engineer, and Bitcoin optimist" Harold Christopher Burger recently released an article on Medium titled "Bitcoin's natural long-term power-law corridor of growth." In it, the analyst laid out a model that shows that BTC fits into a natural "power law" price corridor, which has been tightening over time from a logarithmic perspective. It predicts that the Bitcoin price will not reach $1M per BTC until 2028 at the earliest, which may be a sobering thought for advocates of the McAfee thesis.
Even well-known analyst PlanB's price model for Bitcoin, which is deemed to be quite optimistic yet still logical, doesn't predict that Bitcoin will hit $1 million in the coming 18 months. His model, in fact, predicts that BTC is most likely to hit that lofty price point sometime after the 2024 halving, not four years prior to that.
For those unaware, the analyst, who hails from traditional markets, has created a model that takes the stock-to-flow (SF) ratios — it's basically another way to measure an asset's inflation rate — of certain commodities to predict their market capitalization. The model states that the SF ratio of gold, silver, Bitcoin, and other commodities can be plotted on a logarithmic line, which implies that the lower inflation rate a commodity has, the exponentially more it will be valued.
The model currently states that after Bitcoin's halving in 2020, its fair valuation will rise to $55,000 a coin; and after the 2024 halving, a fairly-valued BTC would surpass $1 million.
What Will Drive Bitcoin's Value?
So, what will drive Bitcoin's value in the long run?
Well, many believe it will be its scarcity, which will lead many to view it as a viable store of value. As PlanB recently posted, BTC always returns to trade in tandem with its SF model, only deviating from it during parabolic rallies and parabolic breaks.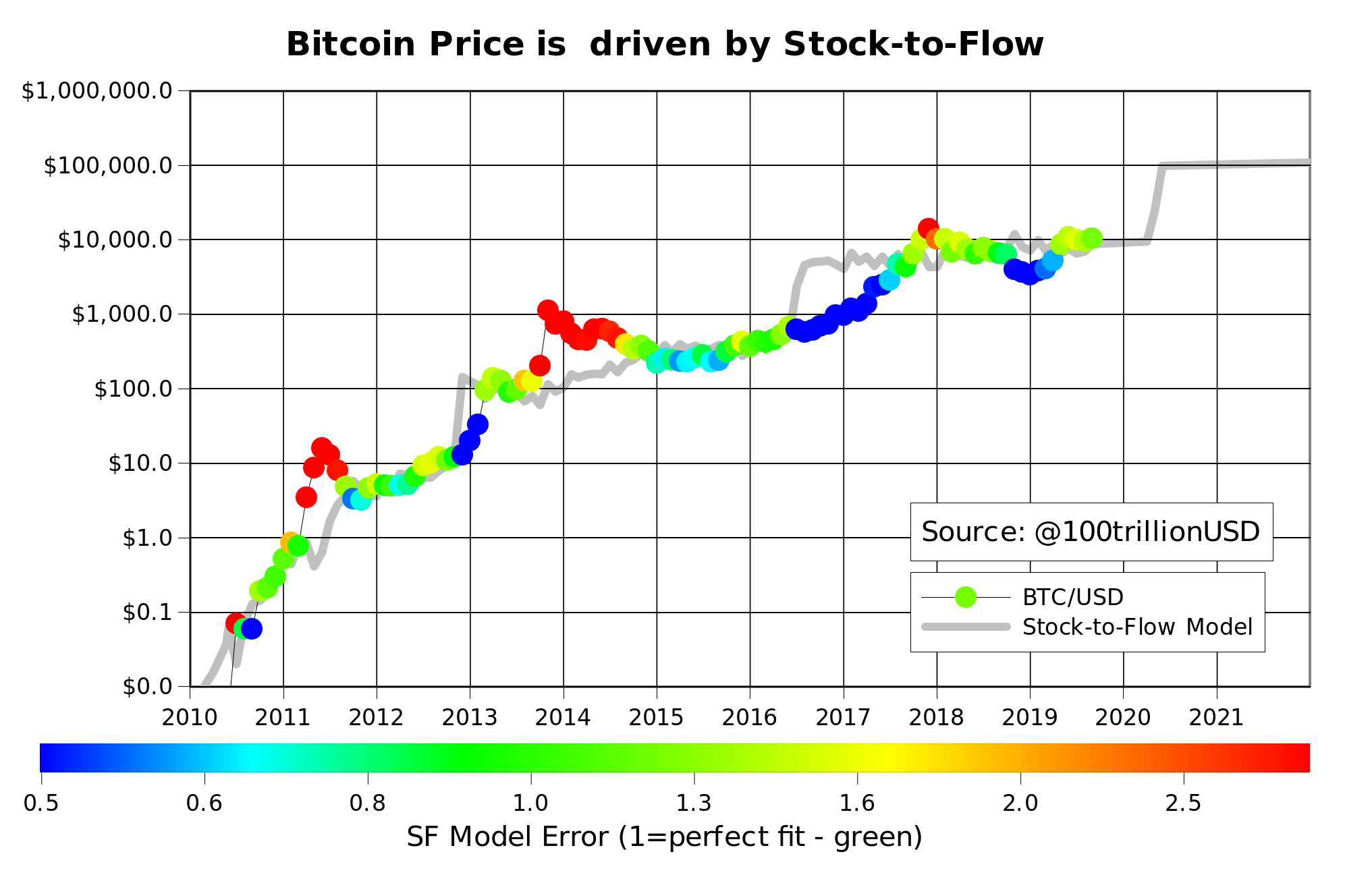 Photo by Kent Pilcher on Unsplash