Ethereum, XRP, Others to Underperform?
As the crypto market has been subject to its latest bout of volatility, Bitcoin has strongly outperformed altcoins, especially Ethereum and XRP. On Wednesday, when BTC was trading 8% down on the week, both ETH and XRP — the second and third-largest cryptocurrencies by market capitalization, respectively — were down nearly 15% since the weekly open, crushed under the pressure of BTC volatility. This trend ended up moving Bitcoin's dominance metrics — which tracks the percentage of the cryptocurrency market made up by BTC — from 66.7% to 68.2% in three days' time, something rather notable for a market valued at $200 billion.
A prominent trader expects for this Bitcoin-centric trend to continue.
Trader Velvet remarked that he expects for Bitcoin's dominance metric to hit 78% — some 10% higher than current levels — by March, just four-odd months away. He remarked that for this to take place, there is likely to be a "slow bleed" in the prices of XRP and ETH.
$Btc will probably make a move in the near future, up if we hold this level.

For me to get bullish again on Alts Paddy, I need to see BTC dominance get to 78% first, target in march, untill then I expect a slow bleed for the majors like ETH an XRP. https://t.co/PVAo40qbhw

— 𝓙.𝓥𝓮𝓵𝓿𝓮𝓽𝓱𝓪𝓶 📊 🏁Fast & Furious 13.8k 📈 (@888Velvet) December 19, 2019
Per previous reports from Ethereum World News, other analysts expect for this to take place as well.
Speaking to Forbes, Joe DiPasquale, CEO of cryptocurrency hedge fund manager BitBull Capital, remarked that the aforementioned altcoin is likely to suffer more, despite XRP already trading at its lowest price in over two years. DiPasquale remarked:
"XRP has been historically very sensitive to adoption-related news pertaining to banking and money services partners, since they represent the biggest clientele for Ripple's services… Now, with Bitcoin's price also experiencing downward pressure, we expect the cryptocurrency to slide further due to this news."
This comment was made in reference to news that MoneyGram, one of Ripple's most prominent financial institution partners, that it doesn't actually hold or "HODL" the asset that it uses.
$20,000 By March: Velvet's Bitcoin Prediction
As to where he expects Bitcoin to head, Velvet remarked earlier this week that the cryptocurrency "could see $20,000 by March," referencing the fact that prior to previous halvings, BTC always surged, rallying higher on the expectation that a negative supply shock would hit the market.
Backing their point, Velvet noted that "this week['s close]" for BTC is "very important," noting that the key thing Bitcoin will need to do by Sunday's close is "holding the" trend line, seen in red in the chart below. For reference, the trend line in question, which always ended up in bear markets when BTC crossed below it, currently sits in the high-$6,000s — BTC is currently above this level. implying to Velvet that Bitcoin will see a pre-halving run-up similar to those seen in the prior two cycles.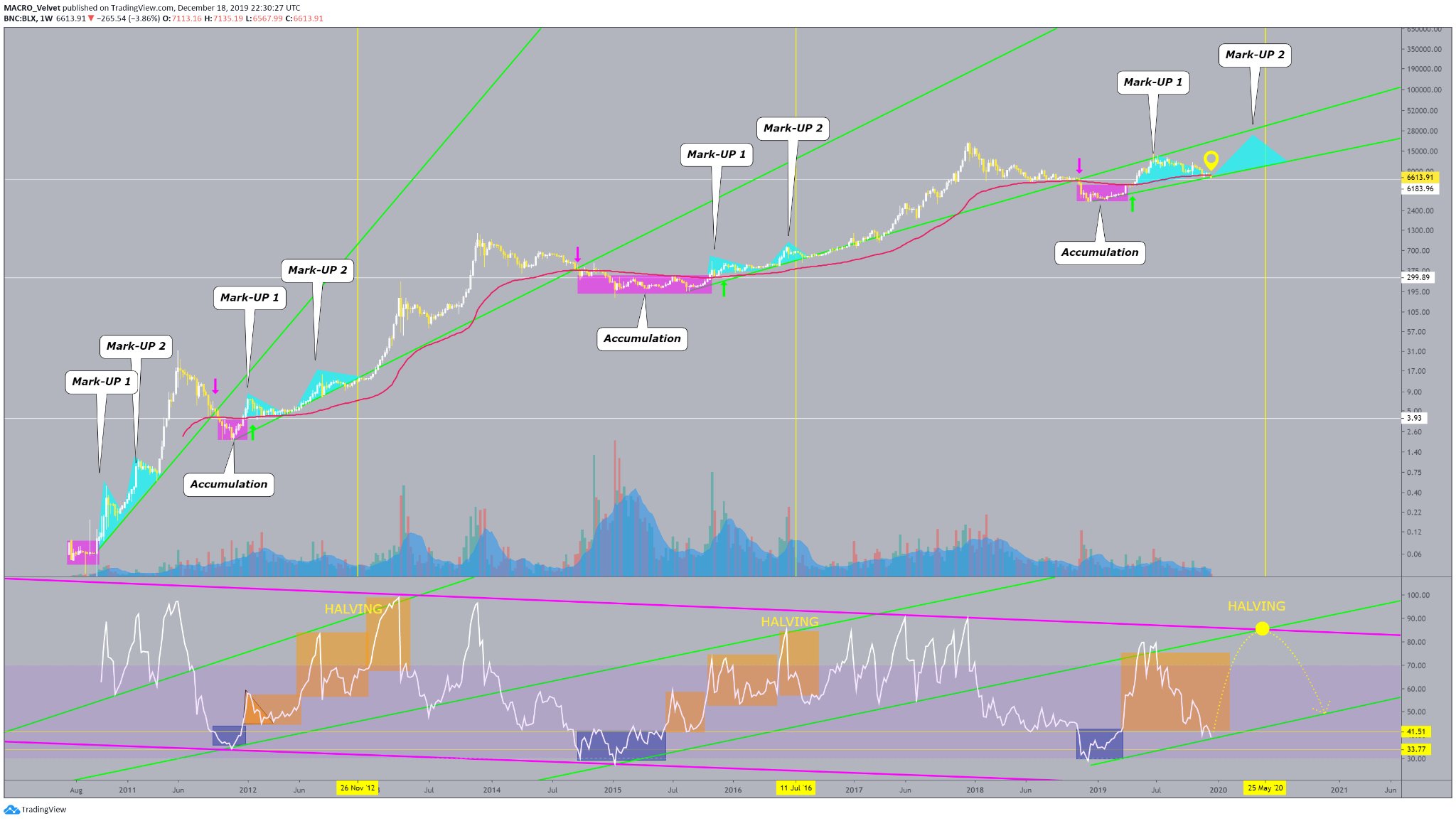 Velvet's optimistic analysis comes hot on the heels of an observation by Thomas Thornton, a hedge fund services specialist and market analyst that Bitcoin's chart on Bloomberg recently printed a "buy 13" candle, according to the TD Sequential Combo indicator.
13 candles, the TD Sequential suggests, are indicative of impending price reversals. That's not to mention that such candles were seen when Bitcoin hit $20,000 in December 2017 and when BTC cratered to $3,150 on December 14th last year.
Featured Image from Unsplash
Disclaimer: This article is not meant to give financial advice. Any additional opinion herein is purely the author's and does not represent the opinion of EWN or any of its other writers. Please carry out your own research before investing in any of the numerous cryptocurrencies available. Thank you.
---