Booming Mining Ecosystem
When nearly half of Bitcoin's hash rate — a metric used to describe the level of computational power backing the network and processing BTC transactions — seemingly disappeared overnight earlier this week, investors were quick to express their concerns on online forums.
Cornell University professor Emin Gün Sirer noted that this trend looks "very unhealthy", before going on to bash the seeming shortcomings of Bitcoin's Proof of Work system and its relation to exchange security.
Bitcoin hashrate down by 30%. Anyone know why? Looks very unhealthy.https://t.co/WADNwZ76ui

— Emin Gün Sirer (@el33th4xor) September 24, 2019
Others simply pointed to the fact that if the metric was real, it meant that a massive amount of cryptocurrency mining infrastructure — farms worth dozens of millions of dollars — were suddenly shut down, implying a decrease in interest in BTC.
But, data readings from Blockchain.com shows that Bitcoin is doing fine. It's doing so fine, in fact, that the data provider estimates that Bitcoin's hash rate has breached 100 exahashes per second for the next time, hitting 108.5 exahashes per second on September 26th.
What's crazy is that this comes in spite of the dramatic price sell-off that cryptocurrencies have incurred over the past week. This implies that miners are still confident about Bitcoin's long-term price growth potential.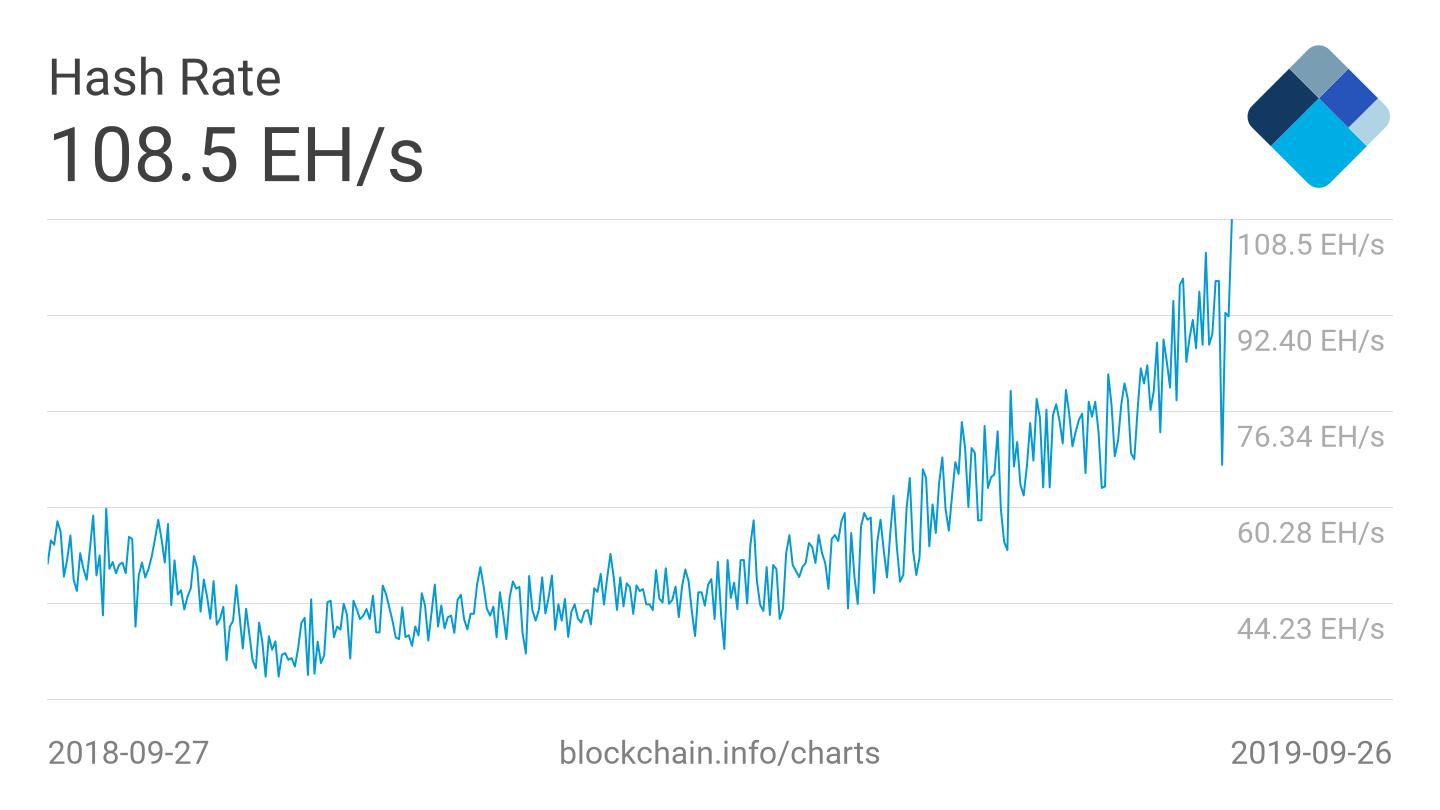 Bitcoin Metrics Strong
According to a number of analysts, the booming hash rate and other strong metrics are a sign that Bitcoin remains in a macro bull trend.
Hans Hauge, a senior quantitative researcher at crypto fund Ikigai Asset Management, recently drew attention to hash rate, daily Bitcoin transactions, BTC's price, developer activity, inflation rate, and a push for the adoption of unorthodox monetary policies. He remarked that these all show that "Bitcoin looks great", even if the cryptocurrency market just fell off a proverbial cliff.
Mark Yusko, the head of Morgan Creek Capital Management, has echoed this optimistic sentiment. He explained on CNBC "Fast Money" that he believes it is still an optimal time to buy BTC because of the continual growth in Bitcoin's underlying metrics:
"Look, the daily price of Bitcoin doesn't matter. It's been alive for ten years. Save for one year, 2015, it has made a higher lower [each and every year]; BTC's market capitalization has grown every single year."
Yusko concluded by likening Bitcoin to Amazon's stock, explaining that the now-nearly-trillion dollar behemoth of a corporation has seen double-digit drawdowns on multiple occasions, but has recovered to new heights each time.
Photo by Gaetan Meyer on Unsplash