After hitting $6,600 late last month, Bitcoin (BTC) saw a strong bounce, surging as high as $7,800 on the weekend. Since this 20% move higher, the price uptrend has subsidized slightly, with the cryptocurrency returning to $7,300 as of the time of writing this article.
Despite this correction, Bloomberg reports that "Bitcoin bulls have at least one technical indicator to be thankful for." The indicator in question is the GTI Vera Convergence Divergence Indicator, which measures up and down shifts, and it shows that BTC has finally entered a "new buying trend," thus " potentially signaling that it's primed to retake the upper end of its trading range around $8,000."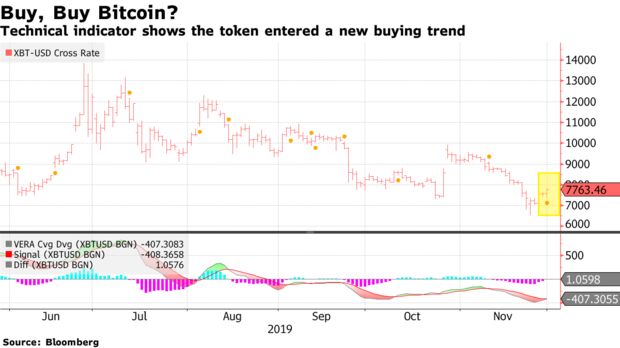 The fundamentals seemingly support this. Per previous reports from Ethereum World News, Fundstrat's Tom Lee remarked to CNBC that the surge in the price of American equities, which are now at all-time highs mostly across the board, sets the stage for risk-tolerant investors to add capital to Bitcoin and other markets that may be deemed "risky" from a classical standpoint.
Bitcoin More Bearish Than Bullish? 
Despite Bloomberg's expectation for Bitcoin to retake the $8,000 range, which may lead to a bullish continuation pattern to bring the cryptocurrency back to the high-$8,000s, some analysts have asserted that BTC remains in a bearish trend, no matter what the GTI Vera indicator says.
Popular trader NebraskanGooner recently noted that Bitcoin's weekly chart looks bearish, again in spite of the fact that a recovery was seen after the strong move lower. The analyst specifically remarked that BTC failed to break the key 99-week simple moving average and a horizontal zone of resistance, before adding that the "increased buyer volume" narrative is a clear misnomer and that the on-balance volume indicator saw a bearish retest.
Weekly looks bearish

Logically one more slight lower low is psychological pain to a lot of people. Plenty of "break even" and "just below last wick" stop losses to hit

I expect slow bleed. Lots of dip buying and being stopped out. Then a fast dip with rapid absorption pic.twitter.com/2IyJmwMj0T

— NebraskanGooner📈 (@nebraskangooner) November 30, 2019
With that in mind, the cryptocurrency trader remarked that he expects for Bitcoin to see a "slow bleed" lower, which will be marked by investors trying to buy the dip and then being stopped out, then a "fast dip with rapid absorption" in the $6,000s.
A quote from the aforementioned Bloomberg article corroborates this. Craig Erlam, senior market analyst at Oanda said to the outlet:
"It appears we have seen some profit taking on short positions, which has lifted prices. [Though] there's obviously been a lot of bearish sentiment recently and there's nothing in the bounce that suggests a shift to me."
Title Image Courtesy of Unsplash