Over the past few weeks, Bitcoin (BTC) has surged higher, rallying from the local bottom of $6,800 to as high as $8,450 early last week. As of the time of writing this article, the leading cryptocurrency is changing hands for $8,150, seemingly poised to head higher after a strong weekly close above key resistance.
Despite this recovery from the $6,000s, a region which analysts say is essential for Bitcoin to hold on a macro basis, a team of analysts at JP Morgan, one of the world's largest financial institutions, suggests that there may be some downside in this market.
Why JP Morgan Is Bearish On Bitcoin
Per a Bloomberg report outlining a recent research note from JP Morgan, the team noted that Bitcoin currently has downside risk.
He specifically looked to the fact that Bitcoin's intrinsic value, calculated by the Wall Street giant by looking at the marginal cost of production of a single coin by weighing the price of computational power (via ASICs) and electricity costs. This tacit intrinsic value, which is similar to how commodity strategists value, say, copper, suggests that the fair price of the cryptocurrency is still around $5,000, 38% below current prices:
The market price has declined by nearly 40% from its peak while the intrinsic value has risen by around 10%… The gap has not yet fully closed, suggesting some downside risk remains.
While JP Morgan's chart (seen below) shows that Bitcoin often deviates from the intrinsic value they calculated, there does exist a large gap, which was bearish for this market at the end of 2018 as depicted in their chart, which shows that a drop in the intrinsic value of BTC preceded a 50% decline.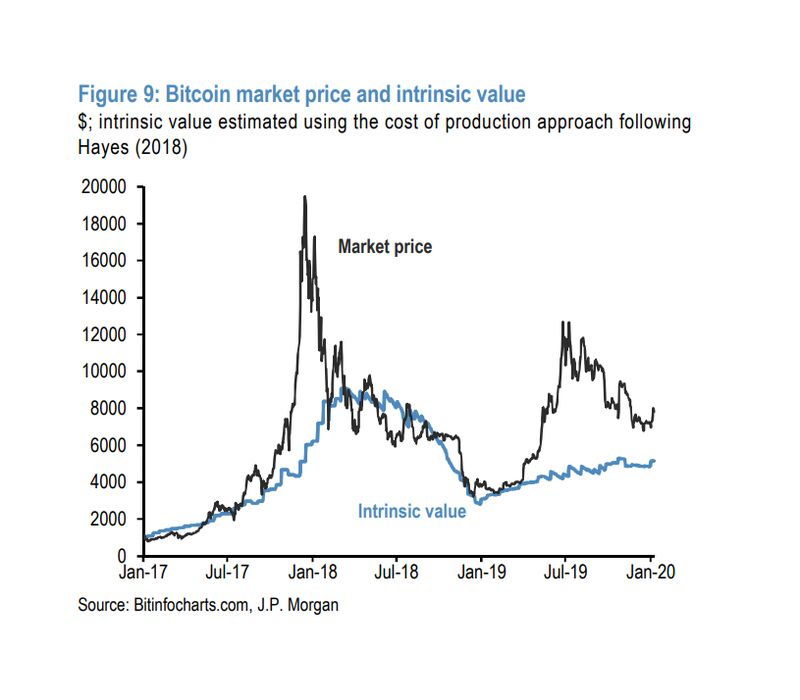 Although JP Morgan is bearish on Bitcoin due to the mining ecosystem, other analysts have touted an array of other factors to back statements of bullish sentiment.
Per previous reports from Ethereum World News, the open interest in the CME's BTC futures contracts is p 59% from the year-end open interest reading, which is staggering considering how little time has transpired between New Year's Day and now.
According to a chart shared by a cryptocurrency fund manager, Murad Mahmudov, the in-tandem increase in open interest, price, and volume suggests that the market is "strong" and "bullish," meaning prices should increase over the coming weeks.
Not to mention, per data from the Commitment of Traders reports, here has been a "dramatic increase in long positions" held by traders deemed "Asset Managers." A very similar surge in asset manager long positions on the CME's futures contracts took place on the week (early-April 2019) Bitcoin began a 330% rally to $14,000.
Photo by Ricardo Gomez Angel on Unsplash